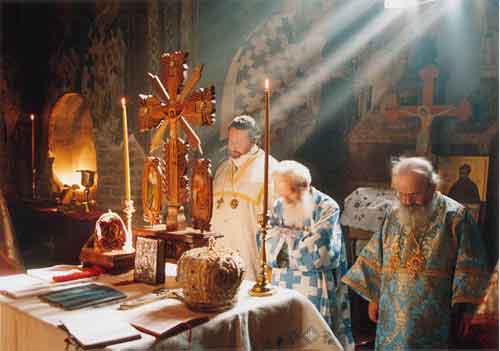 I have to commend Fr. Peters over at his blog,
Pastoral Meanderings
for his incisive comments regarding the Liturgy. As Orthodox, we are relatively immune from the so-called "Worship Wars" which have torn at the heart of various Protestant denominations, including the LCMS (Lutheran Church-Missouri Synod), into which I was born, baptized and confirmed. The LCMS is definitely divided among those who practice and pray the traditional Liturgy and those who would prefer to do whatever they want. Liturgy was relegated to the status of adiaphora (open question) by a great many LCMS pastors to the point that almost no Lutheran churches served the traditional Liturgy because they would give in to demands that the traditional Liturgy no longer spoke to the mass of people.
Fr. Peters knocks this out of the park. Even for Orthodox who insist that we need to get rid of the traditional Liturgy of St. John Chrysostom and replace it with something shorter (because 1.5 hours is way too much), Fr. Peter addresses their complaint thus:
Is it [i.e. Liturgy] working? If the Church is still here, if people are still being fed the Word and Supper of the Lord, if sins are still being forgiven, if creed still invites confession of faith before the world, if sermon still conveys the whole truth of God's Word and if music still speaks the story of Jesus (and not our own personal stories), then it IS working -- better than we know -- to keep us on that narrow path that leads us to life everlasting in Jesus' name.
You can tell Fr. Peters is Lutheran. But these words are applicable still.