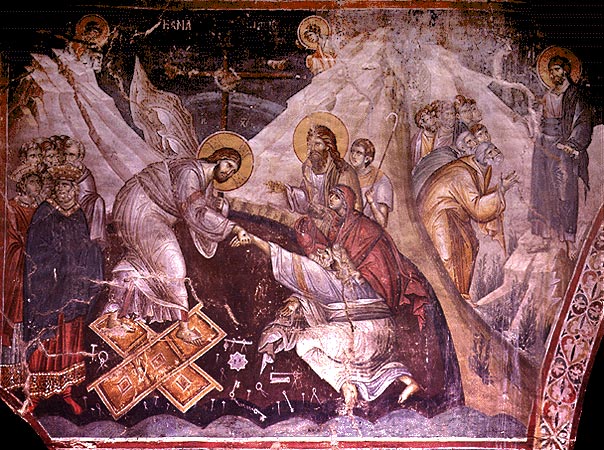 In the Orthodox Church, there are three major commemorations of the Cross itself, on August 1, on September 14 and on the third Sunday of the Great Lenten fast. When you add in other minor festivals and events where the cross figures prominently (including the
stavrotheotokia
at Vespers on Tuesday and Thursday nights) and also the troparia of the hours on Wednesday and Friday, the Cross is commemorated in Orthodox hymnography and prayers for the entire year. As St. Paul said, "God forbid that I should glory except in the Cross of our Lord, Jesus Christ." Our boasting is in an instrument where God humbled His very Self. No longer is it instrument of torture and death; it is now the means to life itself. And no longer is it merely a symbol, but it is a weapon.
The Lord Himself used His own Cross as a weapon when He broke down the doors to Hades and lifted up Adam and Eve and the Patriarchs and their descendants from the bondage which kept them. You can see that in the icon reproduced for this post. Christ holds His Cross with one hand and with the other reaches out to Adam.
For us, too, the Cross of our Lord should be a weapon. It is the weapon which the demons fear and for which they have no countermeasure. The psalmist says,"The light of thy countenance O Lord, is signed upon us." And it has been signed on us with the cross which was made upon our heads, hearts, hands, feet when we were baptized and chrismated. It is a weapon which we all have when we sign ourselves and which we can call upon at any time to fend off the attacks of the evil ones. We should never fear to use it.
For this reason, and many more, do we then exalt in our Lord's Cross. Historically, this feast commemorates the retrieval of the Cross from the Sassanids by the Roman Emperor Heraclius I in the 7th century which was then returned to Jerusalem. Even Heraclius, I would presume, recognized the power of the cross to vanquish enemies of the faith and maybe that is why he set out to retrieve it. But whatever the historical basis for this feast, we should always rejoice in the cross and make it part of our spiritual arsenal. Sign yourself with the cross daily and with faith.